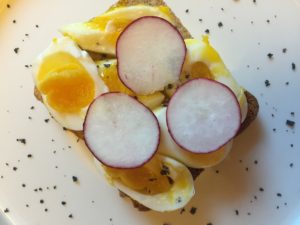 It's all about food. I love everything that has to do with it, from a seed in the garden to the most elaborate dish on a tasting menu. Gardening and cooking were the obvious hobby choices, and while pursuing them, I discovered that my real calling is cooking for people. Carefully selecting ingredients, spending hours experimenting in the kitchen, planning menus, serving a meal that would bring together all kinds of people – inspired me to start LIFE 2 ORDER in 2005.
Here's what I have to offer:
PERSONAL CHEF service, bringing healthy and delicious meals to your table on a regular basis. I handle everything from personalized menu planning through delivery.
CATERING for a variety of private or business events. We can put together a formal or casual dinner, a cocktails party, business lunch etc. I work with a team of professional servers and bartenders and together, we will take care of everything, from planning through clean-up.
JARRING BOTANICALS – creative spice, herb and fruit mixes for making your own cocktail infusions. Fun is just as important as work.
LIFE 2 ORDER started small but over the years many one-time clients became regulars. And some of the regulars became friends. Thank you for inspiring me – I couldn't have done this without you!